Sleeve Design Contest
Graphic designers are welcome to submit entries into our monthly contest. The winner of each month's contest, as determined by our staff, will receive a $50 Starbucks card. Each entry will also be listed with the graphic designer's name and website (or email), if desired. Each entry becomes the property of Sleeve Savers, although the graphic artist is free to use the entry in their personal portfolio.
To enter, follow these steps:
1. Download this Designer's Template for use in Adobe Illustrator or Adobe Photoshop. (Or, if you have trouble with that file, try this .pdf template instead.)
2. Download and complete this Submission Agreement.
3. Design your sleeve based on the instructions in the template.
4. Send your finished design with all fonts outlined and all artwork embedded, as a .jpg file, to the email address in the template. Include the completed and signed Submission Agreement form, either scanned as a .pdf or .jpg or .tiff file, or fax to 1-800-399-0181, or mail to the address on the agreement..
Last Month's Winner
Congratulations to Bryan Prince of Bryan Prince Design, our last month's winner of a $50 Starbucks card.
His winning design... "Coffee Freak."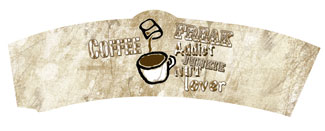 Congratulations Bryan!